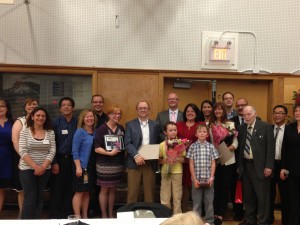 The Calgary Association of Parents and School Councils hosted a Volunteer of the Year awards night on Wednesday June 18th.  The night was a great tribute to all those hard working volunteers who help our schools and children.  CAPSC would like to send out a heart-felt "thank you" to all the volunteers for all their hard work!!!
We had over 200 nominations from schools throughout the city and would like to share with you the highlights of the top 10.
Top 7 Finalists for Volunteer of the Year
Amanda Trudel Amanda is a mother of 5 who is on 3 school councils (Catherine Nichols Gunn, Sir John A McDonald and Diefenbaker). She has done absolutely everything at all of these schools for many years. She manages to be everywhere and do everything and in all these years she has never missed a sports event of other activity. What an amazing mom!
Merle Schmaltz Merle is a retired teacher who is still helping kids to learn. She has volunteered in her neighborhood school for many years and is personally responsible to the success of many, many children. Her support in the classroom has been critical to their success. Merle did not stop when she retired. She continues to guide learning for many many children as a volunteer in the classrooms and is A+++++
Nathan MacBey Nathan was elected co-chair of Elbow Park school 2 weeks before the floods last summer. His own home was devastated by the flooding, but he spent all his energy and time working with the media, the board, the city of Calgary, and many others to ensure that the needs of the Elbow Park students and families would be met despite his own tragedy. His example of selfless service to his community encourages us all to do better.
Nikki Keim Nikki volunteers in her children's school (Rundle Elem.) and makes herself available to help the teachers in all of the classrooms. She supervised on several 6-week long field trips in classrooms that her children were not even a part of because they needed someone. In addition to this, she works full time in the evenings and helps out in everything at the school even though at times she has only had an hour or two of sleep: A truly remarkable person.
Randy Jone Randy is a dad extraordinaire! He has been volunteering every week in Deer Run School for 7 years and has developed strong bonds with all of the students and staff there. He is the life of the party in the game of dodge ball and is everyone's favorite team player. He is on every field trip and helps with everything: painting, reading, math, science, art, cooking, you name it. He's never missed a week and the staff consider him a colleague. The kids there love to see him and he has become a favorite among them all.
Somer Gotmy Somer has done amazing things in her school (Roscarrock Elementary). Because of her efforts they were finally able to have enough volunteers to hold a casino and raise some much needed funds to benefit the classrooms. Her school community is especially hard to get volunteers but she managed to get them anyways. She took it all on even though she did it nearly entirely on her own. Many children and families owe her a great deal for the improvements that will come to their school from her efforts.
Tracy Danberger Tracy is certainly the "Willow Park School nominee of the year"! 19 people nominated Tracy for this award, including 9 staff members at the school. Tracy "lives" at the Willow Park School and is the first to volunteer for everything. She singlehandedly puts on the staff appreciation luncheon each year and ensures that the music program has what it needs. One person wrote that "without her, there would be no music program" – an important part of an arts school! She helps with all her heart and often with her check book as well each and every day. No wonder 19 people felt she should receive this award!
Top 3 Award Recepients: School Volunteer of the Year!
Heather Kovack. In the past 2 years Heather has served on her school councils at Hawkwood and St. Mary Goretti schools and has spearheaded the work to raise money for not one, but 2 playgrounds! It has kept her busy almost full time for the entire 2 years to do this, and even thought her children are getting too old to really use a playground much, she has continued to do the necessary work to ensure that the all of the children in her community will have playgrounds at their schools. She has raised $500 000.00 dollars. She is amazing!
Lisa Davis. Lisa serves as chair of Westgate school and has spent the past two years tirelessly working to address the accommodation issue in NW Calgary. She has organized countless meetings with decision makers in the community and her work has impacted the Legislative Assembly of Alberta. She has faced unimaginable obstacles as she has forged ahead in order to bring solutions to that area of Calgary. She has been a great advocate for the needs of this area and has gone far beyond her own school's needs in order to make a difference. Truly remarkable! 
Roy Shorrocks. Roy is 81 years young. He and his wife go to their community school Woodbine Elementary and volunteer there in order to help the students. Roy has been volunteering for 20 years and his focus is to help children learn to read. He reads with them and passes on his positive attitude, and his love for books. His commitment and his work to ensure literacy in the rising generation are inspiring and remind us all that you are never too old to make a difference. The students who Roy helps love him and feel his deep concern and caring for them. Roy has also suffered from Cataracts, but that did not stop him from reading with the students. He simply brought a magnifying glass, and a flashlight so that he could keep on going. What an incredible man and example to us all.