About the Special Meeting
Although any parent can attend a CAPSC meeting, only the school councils or individuals formally listed and paid as members could vote at our Special Meeting held November 19, 2014. A clear majority voted that CAPSC should continue as an independent organization representing parent voice.
The first motion, 'The Calgary Association of Parents and School Councils shall continue to operate notwithstanding recent changes in status with other organizations,' passed with a near unanimous majority.  The remainder of the motions were passed unanimously.
If you'd like to learn more about next steps for CAPSC, please read the President's Report.
About the Survey
This survey is a summary of information supplied by respondents to an online survey on the CAPSC website, and in paper format at the meeting.  The results shown here represent the 72 respondents who agreed to have their information shared with school boards. A full report, including comments, has been provided to CBE trustees.
SURVEY RESULTS
Q. 

Is it important for school parents to be able to act as a united group,
independent of school boards?

A. A clear majority agreed that having an independent stakeholder is important. Only one respondent answered no.
 
Q.

What CAPSC actions have you found to be valuable in the past?
(Check all that apply.)
A. The following actions, in order of importance, were indicated to be of value to parents.
1. Channeling parent concerns (such as requesting information and discussion on math strategies, report card changes, or transportation issues).
2. Awareness campaigns (such as the 2013/14 Calgary School Traffic Safety Weeks).
3. Political advocacy (such as the June 2013 PC leadership debate on Education and the April 2013 School Traffic Safety Key Stakeholder meeting).
4. Education forums (such as Dr. Dixon's March 2014 seminar on Helping Boys Learn).
5. Calgary school parent volunteer support (such as the June 2014 School Volunteer Awards and the October 2014 School Council Intensive Training Session).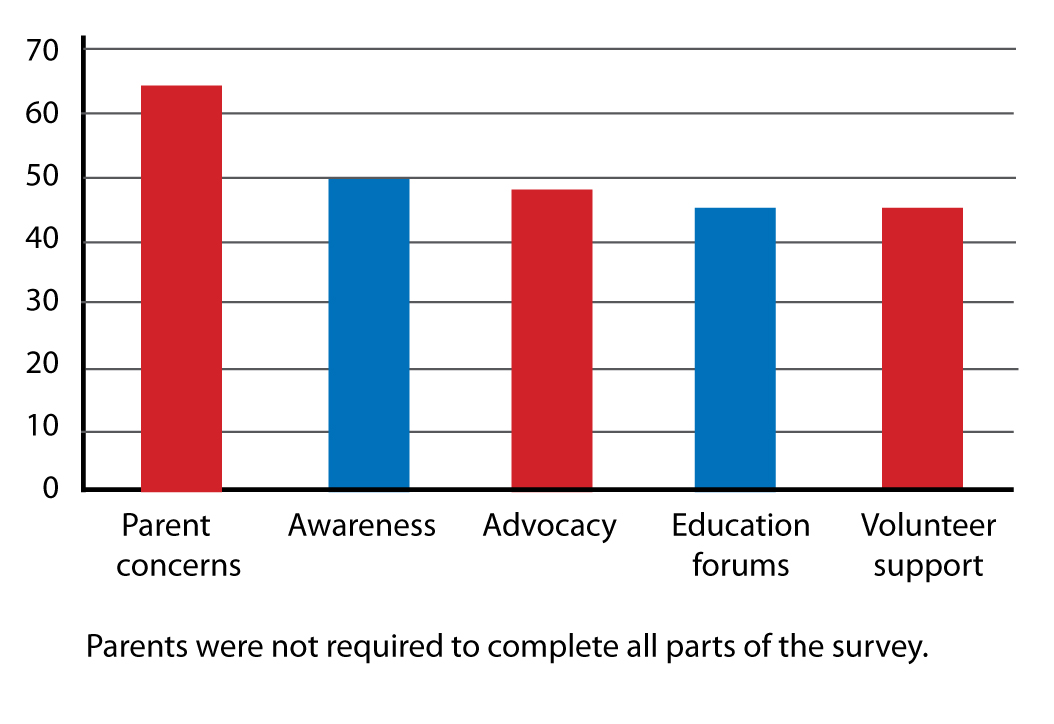 Q.

What role do you see CAPSC playing in future?

 A. Respondents like the role that CAPSC has played in past, and feel a group advocate for parent concerns is needed. 

Suggestions included:
• growing individual memberships so that CAPSC can represent parents in the same way that the ATA represents teachers
• continuing as a separate entity to voice parent concerns
• an outside entity supported by the CBE as a communal voice for parents
• a recognized but independent stakeholder similar to the ATA
• continuing as a VIP – voice, input and action
• advocacy, media relations, education and resources for parents.
Q.

Do you have any suggestions for school boards about communicating with and receiving feedback from parents?

A. Respondents suggested that school boards use current technology along with existing parent networks, allow sufficient time for school council representatives to collect feedback, support CAPSC's efforts to engage parents, consider CAPSC as a joint key stakeholder, and mention as well as respond to concerns voiced by parents and councils.
What wards, schools, communities and boards does the survey represent?
Some parents indicated their ward of residence, some the ward where their children's schools were located, and some listed the school or community. With the exception of Ward 11, all wards were represented in this survey. Ward 14 , Ward 7 and Ward 4 had the highest number of respondents.
SCHOOLS/COMMUNITIES, WHEN LISTED BY NAME:
A.E. Cross, Banff Trail, Battalion Park School, Braeside School, Branton School, Brentwood School, Briar Hill, Calgary West, Canyon Meadows, Central Memorial, Chaparral/Chaparral Elementary, Chris Akkerman, Copperfield (Mapleridge School), Coventry Hills School, Chinook Park, Dr. E.W. Coffin, Dr. Oakley School. Edgemont School, Evanston (schools in Huntington Hills and Highwood), Fairview, Glenbrook Elementary, Glendale School, Grant MacEwan, Hamptons School, Hillhurst, Jack James High School, John Ware, Mayland Heights, McKenzie Lake (LBHS), McKenzie Towne School, North Haven, Nose Creek School, Rideau Park School (SW), Riverbend Elementary, Rocky Ridge/Royal Oak (Royal Oak School), R.T. Alderman, Saddleridge, Sam Livingston School, Sir John A. MacDonald Junior High School, Sir Winston Churchill High School, Sundance Elementary, Thorncliffe, Tom Baines, Tuxedo Park, Varsity (Marion Carson School), Westgate, Wildwood Elementary, Willow Park School, Western Canada High School
The vast majority of respondents have children that go to CBE schools.  Only one CSSD and one private school  were represented in this survey.  61 percent of the respondents submitted results online, and 39 percent completed a paper survey.