Established in 2001, CAPSC serves the parent and student community of Calgary.  We are a volunteer organization, with an executive elected by our members.  As an independent association, we have the ability to speak about and take action on issues of concern to Calgary school parents.
In the autumn of 2014, CAPSC became fully independent.  At that time, our membership voted overwhelmingly in support of continuing to represent an independent school parent voice in Calgary.  CAPSC is now a resource for all Calgary parents and school councils, including public, separate, charter and private organizations. The meeting and survey results serve as a road map for our current actions.
Five key areas have been identified as being of primary importance to our members: channelling parent concerns, awareness campaigns, political advocacy, education forums and Calgary school parent volunteer support. The initiatives listed below were organized to address these areas of concern.
ACTION: 

EDUCATION FORUMS
STEM (Science Technology Engineering Mathematics)
in Education
April 2016
At our April meeting, CAPSC was pleased to present Dr. Gina Cherkowski. She spoke about her research and development of mathematics education techniques, as well as her belief that math is the gatekeeper to educational opportunities, greater career opportunities, higher paying jobs, and to the STEM fields. In addition to volunteering for STEM Alberta, Dr. Cherkowski founded STEM Learning Lab as a way to get meaningful STEM activities to kids so they are aptly positioned to reap the rewards and benefits of our highly technological world.
ACTION: ADVOCACY
Increasing Funding to the Classroom
April 2016
CAPSC continues to have concerns about how much funding is reaching the school level. After evaluating the Catholic Board's budget, we noted how they allocate 8.8 per cent for administration and school supports, vs. 21 per cent for the CBE. This difference amounts to an additional $160 million in funding reaching the school level in the Catholic system.
ACTION: ADVOCACY
Increasing Funding for Syrian Refugees
April 2016
In a CBC dinnertime interview, CAPSC expressed support for CBE's request to receive additional funding for Syrian refugee students. Schools normally receive funding for students based on their September 30th student count. Since October, CBE has taken in hundreds of Syrian students, and CAPSC executive felt the special circumstances of this situation was deserving of an exception to the rule.
ACTION: 

EDUCATION FORUMS
Math Education Event
February 2016

One area of interest for parents is what their children are doing in math. Many parents are reporting the need to spend significant time helping their children with math, using tutoring; and some expressed concern about not getting work home. As a result, CAPSC decided to host a Math Excellence Night, and invited all school boards in Calgary to participate. In addition, we invited Stuart Wachowicz, former Director of Curriculum Development for Edmonton Public School Board and Anna Stokke, Professor of Mathematics at the University of Winnipeg to discuss their views as well. About 300 people attended to hear the four groups speak about how they achieved math excellence for their students. 
ACTION:

CHANNELING PARENT CONCERNS

|

AWARENESS

|

ADVOCACY

Walk A Kilometre in My Shoes
October 2015
After hearing considerable concern expressed by our members about changes to the CBE's transportation services, CAPSC invited stakeholders to join us in walking 1.8 kilometres from the McDougall Centre to the CBE's Education Building. We asked those who can impact these decisions to see for themselves what this distance means, and to show empathy and commitment in addressing key parental concerns. During September, CAPSC executive also met with numerous stakeholders to discuss multiple issues arising from transportation changes.
Learn more about the Walk a Kilometre event.
ACTION: CHANNELING PARENT CONCERNS | ADVOCACY
Meeting with Education Minister David Eggen
September 2015
CAPSC executive travelled to Edmonton to meet with the new Minister. The topics we discussed included the busing situation, the amount of funding reaching the classroom, and concerns parents were having with the math curriculum. We expressed our belief that in order to look at the high school fees parents were paying, the department had to evaluate how much funding was actually reaching the classroom in order to understand the need for school fees. We also advised that we felt the challenges in busing were related, in part, to the high cost of special needs busing. We expressed our belief that everyone agrees these vulnerable children need to be looked after, and that it was likely CBE had a higher proportion of high special needs children due to some of their specialized programming. We encouraged the Minister to obtain this information as we expected it could justify additional funding in this unique situation – which would alleviate issues for all 30,000 students taking the bus.
ACTION: EDUCATION FORUMS
Living with a Learning Challenge
September 2015
During CAPSC's September 2015 meeting, former high school resource teacher Sarah Bieber spoke about her background supporting students struggling with various aspects of learning. As the parent of a child with a learning disability, she has put her experience to work in her  home. She continues to research learning, using books, articles and practical experience, to better help her own child and those around her. Sarah volunteers as an educational consultant to assist parents in developing strategies specific to their children's learning needs.
ACTION: 

SCHOOL PARENT VOLUNTEER SUPPORT
Second Annual School Volunteer Awards
June 2015

Parents, volunteers, school board officials and administration gathered at A.E. Cross School to celebrate productive parent and school partnerships. Our thanks to Barbara Webber of Webber Academy, Joy Bowen-Eyre of the CBE, and Greg Kern of Trinity Christian School who spoke compellingly about the importance of volunteers in schools, and Elizabeth Munson, who honoured them with song. Learn more about how we came together as a community to celebrate school volunteers in 2015 and 2014.
ACTION: 

EDUCATION FORUMS
Seminar on Parenting in the Digital Age
May 2015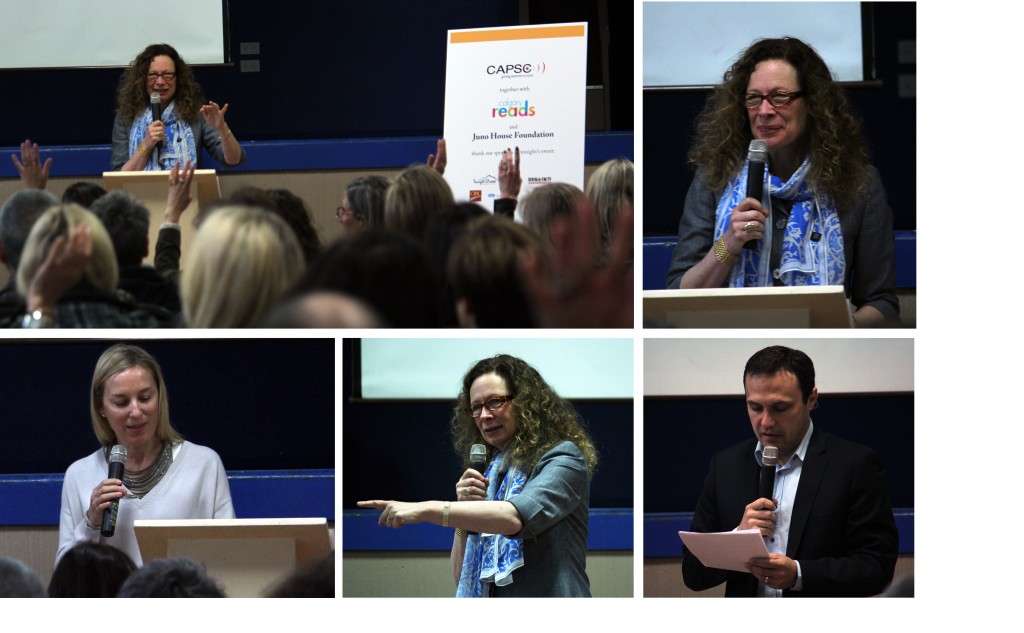 CAPSC partnered with Juno House and Calgary Reads to bring Dr. Steiner-Adair's presentation to Calgary parents. A lively and informed speaker, Dr. Steiner-Adair spoke about the effects of technology on developing minds and bodies. She referenced current research on neurological development, suggesting that caution and thoughtful limits for technology are an important part of parenting today. Learn more about her presentation on The Big Disconnect.
ACTION: 

SCHOOL PARENT VOLUNTEER SUPPORT
Intensive School Council/Association Training Session
October 2014

Responding to the evaluated needs of many of our city school councils, CAPSC created a Saturday training seminar for city school council executives. We had space donated by CBE, and very strong support from the Alberta School Council's Association (ASCA), which presented three full workshops.  Professional groups, experts, and experienced school council executives also contributed information sessions. Dr. Jim Brandon, PhD (University of Calgary) spoke about his recent research regarding Alberta School Councils. It was an excellent seminar with lots of positive feedback from those who participated. Over 70 busy school council volunteer executives in Calgary took the time to attend and benefit from the five hours of training. Learn more about the School Council/Association Training Session.
ACTION:

CHANNELING PARENT CONCERNS

|

AWARENESS

|

ADVOCACY
School Traffic Safety Stakeholder Involvement
April 2013 – October 2014

After hearing concerns voiced by multiple school councils, CAPSC and Sam Livingston School Council co-hosted a stakeholder forum that brought together parents, school administration, transportation officials, police, municipal and provincial representatives and others to review traffic safety issues in Calgary and across the province.  70 community representatives from schools, community associations, and neighborhoods took part. Over 40 key stakeholder representatives attended, including but not limited to Calgary Police Services, Calgary Board of Education, Calgary Catholic School District, Southland Transportation, AMA, City of Calgary, and Alberta Transportation.
As a follow up, CAPSC created the first ever Calgary School Traffic Safety Week. CAPSC worked with key stakeholders, including Calgary Police Services, to develop safe and legal tools that school councils and administration could use to improve traffic safety.  The first School Traffic Week took place in September of 2013, and was followed by a gala reception in November.  Many stakeholders from the spring Stakeholder's Meeting joined with school communities and students to celebrate student achievement. Community support for this work also came from YMCA, Calgary Motor Dealer's Association, the Young Canadians, Calgary Stampeders, Alberta Ballet, and Calgary Hitmen.
As a result of CAPSC's actions on this issue, a key concern was addressed in Alberta legislation. CAPSC's work was recognized in the Alberta Legislature when Bill 32 was introduced to allow municipalities to set their own playground zone times. The city of Calgary followed suit by harmonizing playground and school zone times in September 2014.  The voices and actions of CAPSC, school parents, students and community members encouraged this change.
Learn more about the 2013 School Traffic Safety Week.
ACTION: 

SCHOOL PARENT VOLUNTEER SUPPORT
First Annual School Volunteer Awards
June 2014

CAPSC asked schools in Calgary to nominate their top school volunteer parent or community member. Public schools from across the city nominated volunteers for recognition.  CAPSC received over 220 nominations for Volunteer of the Year. The top 10 volunteers were honoured at a reception in June, with city and provincial officials as well as school representatives and supporters there to commend them. Three received the title `Volunteer of the Year.` We had very strong support from the community of Calgary with more than 400 people in attendance. Mayor Nenshi joined us to congratulate the winners and commend all school volunteers.
ACTION: 

EDUCATION FORUMS
Helping Boys Learn – A Seminar by Dr. Edmond Dixon
May 2014

CAPSC hosted this free seminar about the particular challenges of helping our boys to learn. School parents from both the public and separate school boards of Calgary were invited to attend. The response was enormous. Hundreds of interested school parents had to be turned away, as the facility could only accommodate 500. The presentation contained great information, help and suggestions.
ACTION: 

ADVOCACY

|

EDUCATION FORUMS
Calgary School Trustee Election Forum
September 2013
CAPSC organized and held candidate forums as part of the 2013 civic election to help parents make an educated decision about public school board trustee candidates.  Potential trustees were invited to attend and speak.
Other 2013/14 Initiatives
In addition to the events listed above, CAPSC hosted a forum for PC Leadership candidates to discuss education with Calgary school parents in June.  Our organization also played a key role in engaging discussions with parents regarding the new reporting structure for the CBE, math education in Alberta, internet safety, and other topics throughout the year.
Care about CAPSC?
Show it by becoming a member!
In the past, outside funding allowed this volunteer organization to offer events and services to any school council or school parent in Calgary, regardless of membership status. Although memberships are currently free for individuals, donations allow us to continue to serve Calgary parents and students.  If you like what we have been doing, please support us by signing up for a membership and our newsletter or mailing info@capsc.ca for more information.  To stay current with our activities, search and 'like' CAPSC's Facebook page.
Click on the link to learn more about the roles of CAPSC, CoSC and ASCA in supporting parents and school councils.